Ordinary Couples doing Extra Ordinary Things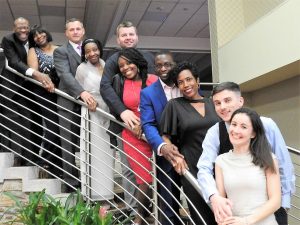 It is 2021 as we write this. When we first began in this ministry over 33 years ago we felt  inadequate and unsure of our ability to coach other couples in the Married For Life class, but at the same time we had prayed and knew that the Lord had called us and anointed us to minister to other marriages. He had met us right where we were and through the class we received the life giving, marriage saving love of God and the power of His Word to set us on His path and walk in the wonderful fulfillment He has brought. Then He told us to give it away.
God calls ordinary couples to this ministry and uses them to do extra ordinary things, for His great Glory!
Mike & Marilyn Phillips, the founders, had been gifted by the Lord to not only birth this great ministry but how to train and equip and nurture couples to be powerful coaches that could then minister to the precious couples He wanted to send and that He has continued to send since 1983.
We have walked with and continue to know many of the couples the Lord has called to 2=1 over the years and we see the great harvest. Because of their willingness to be God's vessels many miracles have taken place.
"But we have this treasure in earthen vessels, that the excellence of the power may be of God and not of us."   2 Corinthians 4:7
There have been many divorces cancelled.(It's true)   Married couples walking through life wanting the joy they anticipated on their wedding day but struggling with issues they brought with them into the marriage and didn't realize the impact it would have.  Many have decisions that have been during their marriage that have caused ongoing pain or division. But some couples have come who have a fairly good marriage but know that the Lord has more and they don't want to settle. Some struggle because of the loss of a job, or lack of God's understanding of marriage and in-law relations and a host of other issues, like unforgiveness, not understanding the joy of God's plan for physical intimacy and more.
But no matter the need or the question, the Lord has the answers and He built the fantastic Married For Life course to guide couples into His blessing.
There are so many married couples who are either hurting or have no idea of how to walk in the beauty of the Lord's covenant of marriage. God doesn't call us to live in covenant marriage for our life time just to say we obeyed our vows. He has the most amazing and wonderful plans for every married couple and wants to show them how to walk in it. He uses Coaching Couples in 2=1 as His instruments to share His great love, and He continues to bless them as they give. That is how this ministry is designed.
"Give generously and generous gifts will be given back to you, shaken down to make room for more. Abundant gifts will pour out upon you with such an overflowing measure that it will run over the top! The measurement of your generosity becomes the measurement of your return."  Luke 6:38 TPT
 When the Lord places on a couples heart to come and be trained they are answering a mighty call from the Lord and are planting seeds that will change the destinies of not just the married couples they minister to in the courses but of their children and children's children. The generations will receive blessing and hand it down as a powerful godly legacy.
This is why the Lord had the Phillipps later write the Parents For Life course and the One For Life pre-married course.
"Great is the Lord, and greatly to be praised;
And His greatness is unsearchable.
 One generation shall praise Your works to another,
And shall declare Your mighty acts." Psalm 145:3-4
Dave & Sherry Carder
2=1 North America U.S./Canada Directors